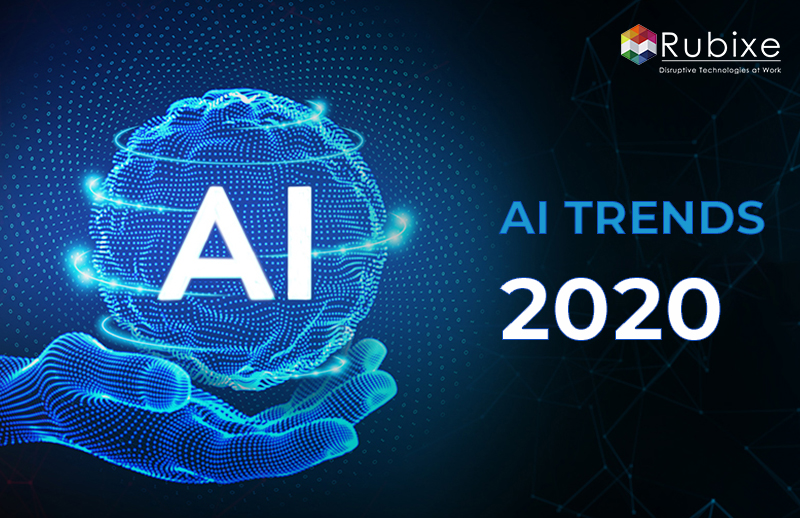 AI is here and it does not look like it's going to wear off any time soon. In a tech-driven environment, we all are experiencing an astounding growth of AI technology with so many new uses. The advanced use of AI technology is changing the way people live and work. This blog speaks about the top 12 AI trends to watch in 2020. In short, 2020 will be an exciting year for AI development.
Artificial Intelligence in Healthcare
In 2020, AI will help healthcare organizations to efficiently operate for improved patient care. This year AI and machine learning will offer a better way to spot diseases, robots will be used beyond surgical tasks, AI-enabled genomics will determine personalized treatment, AI-neural networks will improve healthcare biometrics, and digital twins will determine the possibility for successful outcomes.
Artificial Intelligence in Cyber Security
AI and Machine Learning tools are playing a significant role in cybersecurity. AI in cybersecurity is beneficial because it improves how security specialists of companies examine, study, and understand cyber-crime. The combination of AI and machine learning improve digital security. Using it, you can create biometric-based login techniques, detect threats and malicious activities via predictive analysis, and enhance learning and analysis through natural language processing (NLP) for your business.
Artificial Intelligence in Manufacturing
Do you want to gain huge growth in productivity, environmental friendliness, and quality of life? Then, AI plays a significant role in the manufacturing industry by connecting the gap between research and implementation. You can use it in your manufacturing unit for quality checks, maintenance of machinery, to reduce environmental impact, supply chain optimization, improve customer service, post-production support, and much more.
Artificial Intelligence and Blockchain
AI and Blockchain are quite a powerful combination that will improve every industry implicitly in which they will be achieved. In 2020, Blockchain and AI will be combined to upgrade everything starting from food supply chain logistics, healthcare record sharing to media royalties, and financial security. AI + Blockchain will enhance business data models, will make finance smarter, impose transparent governance, and will help in making the retail industry intelligent through predictive analysis.
Facial Recognition
Facial recognition has been gaining prominence in recent times because of the benefits it offers over traditional security methods. In 2020, it is expected that our interaction with face recognition technology will increase by many folds. This year's top facial recognition trends will be in e-commerce and digital banking for fraud alleviation, personalized customer experience, enhanced airport security, intensified border security management, health care, digital advertising, and much more.
Robotics Process Automation
RPA is a subset of AI that enables organizations to configure software robots to get the data and perform customary tasks. It is predicted that in 2020, it will be used for various processes in the organization across various functions to manage consumer-focused and external methods. RPA bots will help in reducing human blunders as they will fit well to deal with data-intensive jobs efficiently and that also without any errors. It will help industries to reduce their security risk and free people to focus on high-value work.
Voice-Centric Apps
Applicability of voice technology is seen everywhere and it is expected that it will open new opportunities to build customer connections. In 2020, the voice user interface will develop, conversions will be more streamlined and these voice-centric apps will offer improved personalized experience. In short, as customers are becoming more comfortable and reliant upon voice technology, it will become a primary interface to the digital world in 2020.
Quantum Computing AI Applications
It is expected that the use of quantum computing AI applications will boost the machine's learning capabilities. This will lead to advancements in development notably in the financial sectors. This quantum computing and AI integration in apps can solve complicated problems quickly, build better models, handle large datasets, and combat fraud detection easily. So, for the coming years, a combination of AI and quantum computing is a huge way forward.
AI-powered Chatbots
It is projected that by the end of 2020, you will find AI-powered Chatbots use cases across all industries and business functions like sales, marketing, internal process automation, customer service, and so on. Today, it offers improved online customer support and in-app support to the customers. Also, it helps in quickening the effectiveness of the internal workforce productivity across the organization. It helps in lead generation, leads nurturing, appointment booking, and better customer engagement. But it is assumed that in 2020, the use cases of AI Powered Chatbots will be as efficient as humans in using predictive and sentiment analysis. It will be able to offer resolutions to complicated queries.
NLP & Speech Recognition
Natural language processing is an evolving set of ML and AI-based technologies that let machines learn, recognize, and provide content in the human language. This technology works closely with speech recognition engines. It is expected that the succession of Artificial Intelligence, Machine Learning, and Natural Language Processing in Speech Recognition will absolutely transform the experience and presumably will take over the voice search market in 2020.
Artificial Intelligence in AR and VR
AR, VR, and AI have entered the business environment long back and also proved their promised individualism. But, from the year 2020 onwards, developers and business leaders will look onward to discussing the potential of their collaboration. We will observe an increase in the number of AR avatars, 5G will speed up AR/VR revolution, greater opportunity for remote assistance via AR/VR, improvement in AR/VR displays, the advent of WebAR, and will see the gear up vehicles with the power of AR. In short, AI-powered AR/VR will transform the digital experience completely.
Real-Time Interactions with Customers
Do you want to improve your customer experience approach in 2020? Then, integrating AI in your marketing strategy will offer you the enormous potential to manage real-time customer interaction and improve customer engagement in 2020. It will help you beyond increasing your sales, AI will help you in classifying your best customers in the future through building customer profiles, identifying consumer trends, and formulating more established potential target audiences.